THE REMANUFACTURING SECTOR
On 27 January 2017, the European Remanufacturing Council (Conseil Européen de Remanufacture) was launched by the European Remanufacturing Network (ERN) at the Stanhope Hotel in Brussels.
Remanufacturing is the backbone of the Circular Economy – but no statistics exist on the size of the remanufacturing sector in any country. Professor Walter R. Stahel, who was the keynote speaker at the launch meeting, decided after the meeting to publish the figures from a confidential study made in 2000 by the Product-Life Institute Geneva, which provides a structure of the remanufacturing sector and gives unpublished figures and estimates of its market, in order to jump start an open discussion on the topics of remanufacturing as the hidden giant, as Prof Robert Lund from MIT called it in his 1996 study.
Please address any comments to Walter Stahel at wrstahel2014@gmail.com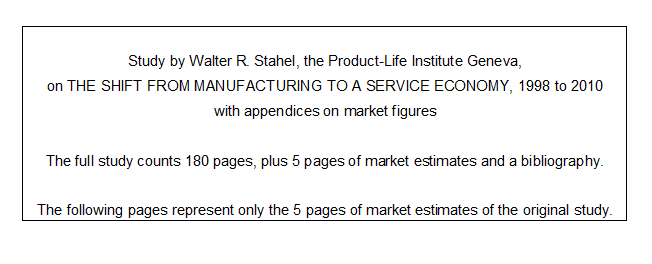 Copyright © The Product-Life Institute Geneva 2000